By Netskope on Mar 16, 2020 3:20:09 PM
Securing remote workers has never been more important than it is right now.
Employees are increasingly working from locations outside of the traditional corporate network environment. These remote workers bypass traditional perimeter-based security controls, leaving organisations exposed and vulnerable to data loss and threats.
Watch the demo below to see how Bob Gilbert, Chief Evangelist at Netskope is using Netskope Private Access to effectively work from home.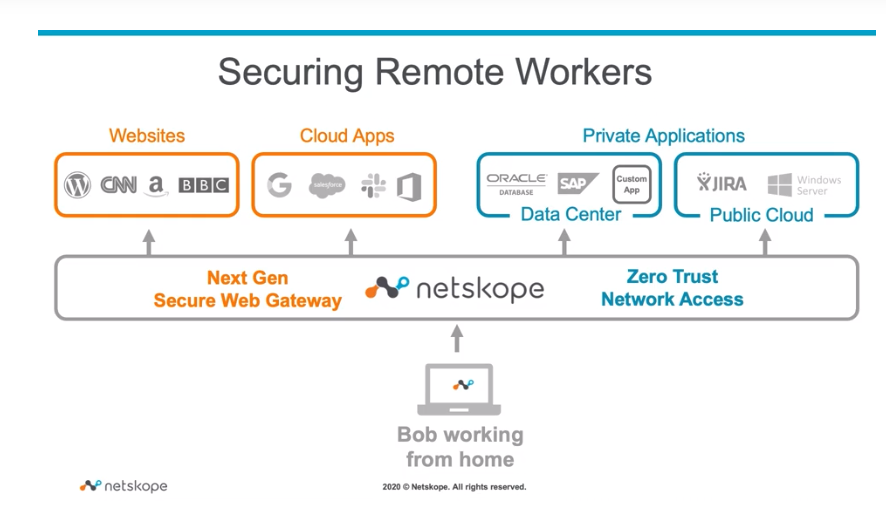 TOP USE CASES AT A GLANCE
Provide remote users with secure zero trust access to authorised applications, not your entire network

Deliver a seamless end user experience for accessing applications in public clouds and data centre environments

Provide employees with remote access to apps in the public cloud without needing to expose them publicly

Retire inefficient and complex VPN routing architectures used to access applications in public cloud

Combine Private Access with the wider Netskope Security Platform and extend security to cloud apps and web, using a single transparent client

Traditional remote access VPN solutions require capital expenditure on on-premises appliances. These appliances lack scale, fail to limit remote users' lateral movement within the corporate network, require hairpinning over the corporate WAN when accessing public cloud, and are cumbersome to maintain.

A modern remote access solution built on the principles of zero trust can instead provide streamlined and secure access to private applications hosted within data centres and public cloud.

Netskope Private Access (NPA) is a cloud-based Zero Trust Network Access (ZTNA) solution that is a fully integrated component of the wider Netskope Security Cloud platform and delivered through the global Netskope NewEdge network. NPA directly connects remote workers to private applications running in public cloud environments or private data centres; reducing risk and simplifying security operations.

NPA allows an organisation to begin retiring legacy VPN hardware, and move towards a more secure, cloud-first, remote access architecture. End the high capital investment, refresh cycles, and ongoing management costs of VPN appliances —and adopt ZTNA for your remote access needs.

Find out more about Netskope and Cloud Access Security